Image Converter Software
2TIFF is the image conversion software designed for IT professionals, workflow system integrators, corporate and independent software developers.
2TIFF business-class quality software is also suitable for IT-enthusiasts; one can use it free of charge for nonprofit projects, research and evaluation.
Download now!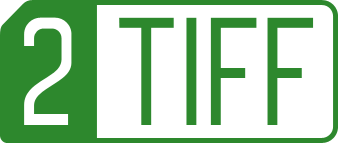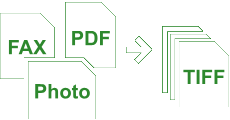 Batch Image Converter
2TIFF can create TIFF files from 275 different documents and images. The list of file conversion options includes abilities to convert PDF to TIFF, JPG to TIFF, PNG to TIFF, and others.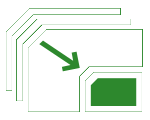 Quick Image Resizer
2TIFF lets IT professionals quickly resize image files in batch mode preserving high image quality and keeping proportions of the source document.

Command Line Interface
2TIFF software is equipped with the command line interface. This lets system integrators use 2TIFF as the image processing core in the deployed corporate workflow system.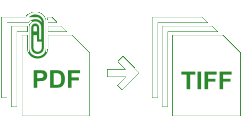 PDF to TIFF Converter
2TIFF lets users change the resolution of PDF during the conversion process. This helps pertain high quality of the resulting TIFF files.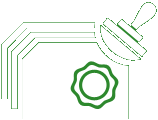 Watermarking Images
Watermarking resulting image files is one of the features available with 2TIFF. Either a text or an image files can be used as the watermark.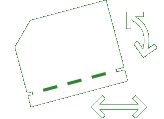 Flip, Crop and Image Rotation
2TIFF image conversion software enables the users to flip, rotate and crop images in the automatic mode.
2TIFF is the image processing software with the command line interface
2TIFF is based on the proprietary graphics engine component developed by fCoder. Thanks to this high quality graphics engine that has been constantly improved since 1998, 2TIFF is able to work 365 days a year and may be used within the corporate workflow system satisfying the highest requirements for business processes reliability.
Paul Hawkins, satisfied customer from from Dundas, Ontario said:

fCoder has done a great job! I use 2TIFF program for processing my image files. The fact that I have the flexibility to set the parameters needed to process an entire directory of image files is very efficient and convenient. You can't beat the price for these programs, and the support you receive is top notch. I have had a couple of situations, in which the support team was able to solve to my satisfaction in a very timely manner. If you work with a variety of image formats you can't go wrong with this set of programs.
Availability and Licensing
Download the free version of 2TIFF to evaluate its capabilities. Free version will provide exactly the same functionality, but each resulting file will have a text "Created by 2TIFF" attached to it.
Otherwise, the program offers three licensing options:

Lets the user install, activate and run 2TIFF under one Windows user account. The price starts from $149.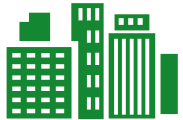 Lets corporate users install and run 2TIFF in all the company offices.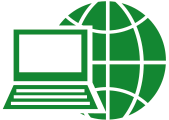 Software developers can include 2TIFF to their own software installation kit and distribute it without any limitations.
Discounts are available starting from 5 licenses purchased. Nonprofit companies and governmental institutions can benefit from special discounting policy. Please apply to our support service for more information.
2TIFF News and Events
About Company

fCoder provides numerous document and image processing applications for businesses, educational and governmental institutions as well as individual consumers worldwide. The company was founded in 1998 and successfully designs and develops its software solutions within its three divisions – document imaging, image processing, and digital photo editing.
Customer Support Service
You are welcome to contact our customer support service for any inquiries. We will readily explain to you how to most effectively use 2TIFF within your company and how to apply for a discount. Answers to the most common questions are published on the Examples page.